EnKlik Anketa
Import data from EnKlikAnketa (1ka.si) public URL.
Outputs
The EnKlik Anketa widget retrieves survey results obtained from the EnKlikAnketa service. You need to create a public link to to retrieve the results. Go to the survey you wish to retrieve, then select Data (Podatki) tab and create a public link (javna povezava) at the top right corner.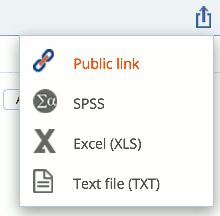 Then insert the link into the Public link URL field. The link should look something like this: https://www.1ka.si/podatki/123456/78A9B1CD/.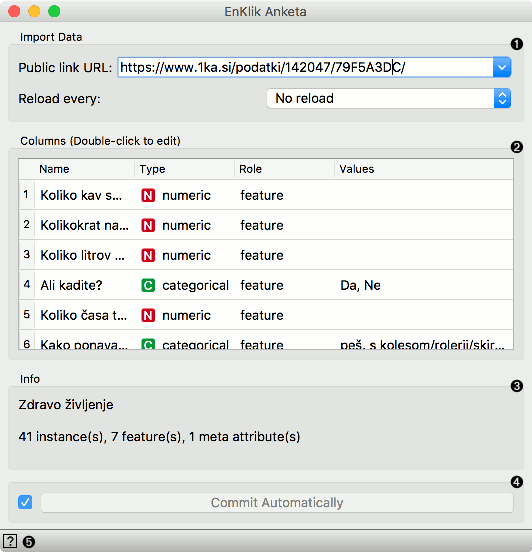 A public link to the survey results. To observe the results live, set the reload rate (5s - 5 min).
Attribute list. You can change the attribute type and role, just like in the File widget.
Survey meta information.
Tick the box on the left to commit the changes automatically. Alternatively, click Commit.
Access widget help.
Example
EnKlik Anketa widget is great for observing results from online surveys. We have created a sample survey and imported it into the widget. We have 41 responses and we have asked 8 questions, 7 of which were recognized as features and 1 as a meta attribute.
The widget sets questions from the survey as feature names. This, however, might be slightly impractical for analytical purposes, as we can see in the Data Table. We will shorten the names with Edit Domain widget.
Edit Domain enables us to change attribute names and even rename attribute values for discrete attributes. Now our attribute names are much easier to work with, as we can see in Data Table (1).